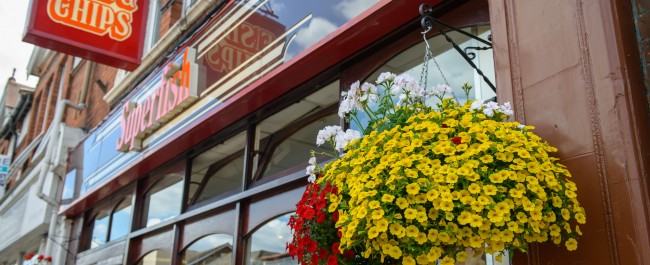 Superfish Frying High With Quality Fish & Chip Award
Superfish is celebrating after being recognised with the prestigious National Federation of Fish Friers (NFFF) Fish & Chip Quality Award.
We are a family run business with over 40 years experience in serving delicious fish and chips to thousands of customers. We're happy to announce that we've recently been awarded the NFFF Fish & Chip Quality Award, which recognises outstanding quality fish and chips through the assessment of our premises, hygiene standards, equipment and work practices along with the overall taste of cooked fish and chips.
Our owner, Michael Rhodes, has said; "We are very pleased to receive this prestigious award. To be recognised as one of the top fish and chip shops by the NFFF is indeed an honour and a credit to our hardworking staff who I would like to offer my sincere thanks to, for their continued hard work and efforts to maintain our excellent reputation."
We believe that this award doesn't just represent the fish and chips that we produce across our restaurants, but also the hard work and high quality produce that our local sustainable suppliers provide us to work with. To qualify for this award, each shop has to go through an inspection by a National Federation of Fish Friers Approved Assessor who looks through the cleanliness, training, equipment, sales skills and quality of each product.
The NFFF Fish & Chip Quality Award gives you the confidence that you're buying the highest quality produce from your local area, and that the standards and practices of the shop you are buying from is high. Our award will be valid for two years, and upon next inspection we aim to keep our quality as high as ever.
NFFF Training and Accreditation Manager Richard Wardell explained: "Food safety is a key area that we examine together with other key aspects of the business. Superfish clearly takes pride in where it sources its fish and potatoes from. Achieving the NFFF Fish & Chip Quality Award provides reassurance to customers that they are being served cooked food using high-quality ingredients."
Currently around 250 fish and chip outlets across the country have been recognised with the NFFF Fish & Chip Quality Award, and we're very proud to be part of that number!