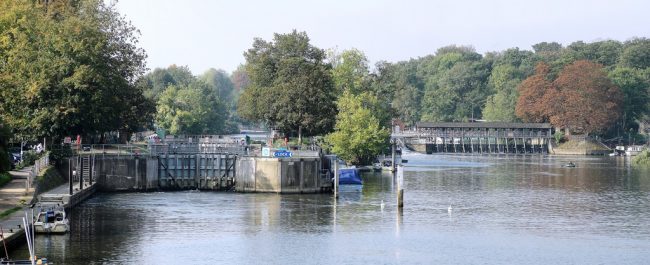 East Molesey
This month at Super Fish, we're diving into the history of one of our popular shop locations, East Molesey. See what you can learn and hopefully we'll see you in the shop for a delicious dinner soon!
The beautiful area of Molesey is just on the edge of Greater London and is divided into two villages, East Molesey and West Molesey.
East Molesey extends north across the Thames into the London Borough of Richmond upon Thames, and is well known for being extremely close to the popular Hampton Court Palace.
What makes the village it's own? Bridge Road. It's a hub of activity with shops, pubs and restaurants that locals and visitors can enjoy throughout the year. In addition to this, you can head over to the East Molesey side of the Lutyens-designed Hampton Court Bridge, where you can take a trip down the river and pass some beautiful houseboats.
Across the bridge, you find Bushy Park, the second largest of London's Royal parks. It is home to a peaceful Diana Fountain and boasts beautiful greenery and relaxing views..
Famous Boat Club
Molesey Boat club was founded in 1866 and has always had a good reputation, in large part for its  international success. Many Olympic gold medals have come from Molesey Boat Club, such as those won by Jonny Searle and Martin Cross. One of the most famous current members is Olympic hero Andrew Triggs. For the public and boat fans, you can attend the annual Molesey Regatta that takes place every July.
Another fascinating fact you may not know is that Hurst Park, which is situated on the banks of the Thames at Molesey and was regularly used from the Neolithic (4000 – 2200 BC) to the Saxon (410 – 1066 AD) period. This was uncovered over several excavations in the area and provides a site of historical interest with Saxon buildings and a late Bronze Age settlement.
Superfish in East Molesey
If our facts and information  has enticed you to visit the East Molesey area, or if you just live down the road, it would be the taste highlight of your trip to stop by and beat that hunger with some fish and chips at our Superfish store.
Our East Molesey store is one of our largest and has lots of space to make you and your family and friends comfortable. Whether you want to takeaway for the journey home or want to stay and take in the surroundings and make the most of our seating area, there is no need to worry about parking. There is a car park for your use adjacent to the restaurant.
Enjoy a day of exploring Molesey and then finish it off with some freshly prepared fish and chips. What could be better? If you can't wait to see what we have on offer you can browse our menu here, that should get your taste buds tingling.