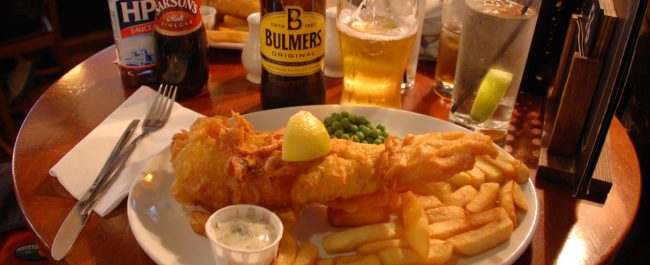 Four drinks that make the perfect partner for your Fish n Chips
Fish and chips is the classic British treat and it's not hard to choose the meal you want to enjoy when you walk into a shop and smell the wonderful flavours. Most people already have their favourite dish that they get time and time again, because if it's tasty why would you want anything else?
Sometimes though, what beverage to get alongside your food can be a difficult decision. Here's what we think are the four best matches if you find yourself struggling to decide:
Yorkshire Tea
It's a great British dish so you need a great British drink to accompany it and that is why tea deserves to be first on our list. Served strong and with plenty of sugar it makes the perfect partner for fish, with buttered bread and mushy peas all part of the intrinsic experience. This combination is especially satisfying on a cold winter's day.
Wine
This one isn't an obvious choice but it really works. However there are some rules before you delve into this experiment. The wine should be bright, acidic and refreshing; these are the three things that make it a perfect pairing for your fishy feast. A crisp white or perhaps a fruity rose would both make a delicious choice. Our suggestion – cold sauvignon blanc as it really brings out the flavours and it perfect to share!
Beer
Beer is another favourite to have alongside this delicious dish. Have you ever tried beer battered cod? The two just go hand in hand. We reckon the heavenly pairing is because of this natural affinity with batter or maybe because there is simply nothing better on a sunny day than hearty fish and chips served with an ice cold beer. Either way, cool lagers or light summer ales make excellent choices. If available, try some local brews.
Fizzy soft drinks
Last but not least, a good old favourite of many is the classic fizzy soft drink. There is no doubt that a cold Lemonade is one of the best accompaniments to a fish supper. Nothing beats washing away that saltiness with a cold glass of something fizzy and the best part is there's so much variety that there's something for everyone.
Here at Superfish we have a range of enticing beverages for you to pair with your Fish and Chips. Take a look at our menu and pick your perfect meal pairing. Meal pairing.